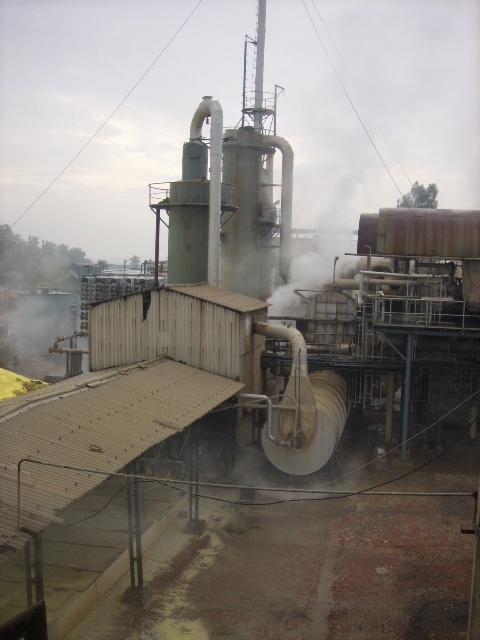 Sulphuric Acid Plant
Price And Quantity
Unit/Units

10000000.00 - 25000000.00 INR
Product Description
Sulphuric Acid Plant
We are offering quality engineered Sulphuric Acid Plant, which is used in the chemical industry for producing fertilizer, inorganic, synthetic fiber, dyes, medicines and raw materials for food industry. In addition to this, our plants are used in the oil industry for refining products related to petroleum. The other application area of this is defense industry and it is used to produce of poisons and smoke. Our Sulphuric Acid Plant is also used for smelting pickling in the metallurgical industry. Dyeing and bleaching are the important work done by the plant in the textile industry. We use fine quality raw materials, cutting edge technologies and best available knowledge for making the plants efficient as well as outstanding. In addition to this, our plants are designed by team of engineers, which is experienced and know the pros and cones for designing the same.

Features:

Minimum maintenance needed

Long life

Flawless operation

Corrosion resistance
Introduction : Sulphuric Acid is called King of Chemical. It is called so because of its multiple use in different spheres of life. Sulphuric acid was known to the ancient people who use to make alums with it.

Uses of sulphuric acid:

Sulphuric acid finds its use in textile industries
It is used in making detergents
It is used in synthesis of chemicals
It is used in making ferric alums, non ferric alums
Zinc sulphate which is used as fertilizer is manufactured by using sulphuric acid as raw material
Battery grade sulphuric acid is widely used in batteries
It is very important chemical in the laboratories
It is used as a dehydrant in industry
Properties of Sulphuric Acid :

Purity : 98.5+_ 0.3
SP gravity : 1.85
Iron contents : not more than 0.05%
Color : Colorless to brown
Boiling point: 340c (decomposes)
Melting point : 10.5Oc
Handling:It is handled in Mild steel vessels and tankers. MS is very safe material although SS can also be used. It can cause burn if come in contact with human skin. It starts fuming in open so that vessel has to be closed. Plastics are also good material provided they have sufficient strength.

The sulphuric acid should be handled with extreme care . The person working with it should always use rubber hand gloves, gum boots, face shield and plastic helmet. The water shower should be provided near the handling point

Sulphur Raw Material:
| | |
| --- | --- |
| Chemical formula | S wt 32.06 |
| Shape / size Colour | crystals & lumps / powder bright yellow or black |
| Purity (min) | 99.5% |
| Moisture | not more than 1 % |
| Storage | In open bins. It does not Absorb water |
| Density | 2.046 |
| Consumption / MT | 0.332 |
| Category | covered under explosive |
| Fire / Burning | gives pungent SO2 gas on burning. Water is used to extinguish fire. Fire does not spread fast. |
| BP | 444.6 OC |
| Melting Point | 117c ( 112.8. oc to 119.2 oc) |
| Weather reaction | nil |
| Firing temperature | 430 oC |
Sulphur is available as mined sulphur. But for Commercial purpose the Sulphur separated from Petroleum refining is used as raw material.
Sulphur is available in all the OPEC countries like, Iran , Iraq, S. Arabia, Qatar, UAE . Poland , USSR , Israel.
The approximate cost of sulphur in the international market is about US$ 58.00 Per MT
Manufacturing Process: There are two technologies available for manufacturing of S.A. other than the lead chamber process which is obsolete & not viable.

Conventional contact process
Double contact double absorption process
Both of the technologies are same fundamentally but they differ in application. Sulphur is burnt in dry air to form sulphur dioxide. The sulphur dioxide is made to react with oxygen from air to form sulphur trioxide. The sulphur trioxide is absorbed in sulphuric acid to concentrate it. Water is added continuously to maintain the desired concentration. In conventional process the above mentioned process of conversion and absorption is performed once while in DCDA it is done twice for better efficiencies. The conventional contact process is cheap in the cost of plant and machinery , inefficient in conversion and absorption efficiencies, poor in heat recovery. It does not meet the pollution specifications of many advance countries so this technology is no more allowed in India. The double contact double absorption process uses costly plant and machinery , efficient in conversion & absorption efficiencies, very efficient in heat recovery, & the pollution Control. The Selection of process is entirely depends on the customer. If the customer is interested in better heat recoveries , better conversion and absorption efficiencies, lower raw material consumption per ton, and environment friendly technology, then he has to opt for DCDA process. If he has got some source to sale /use of steam, DCDA process is far superior cost wise also as the payback period for the steam system is less.

Contact Us
G-1-1428, RIICO Industrial Area, Phase V, Bhiwadi, Rampur Mundana, Bhiwadi, Rajasthan, 301019, India
Phone :+918037400922