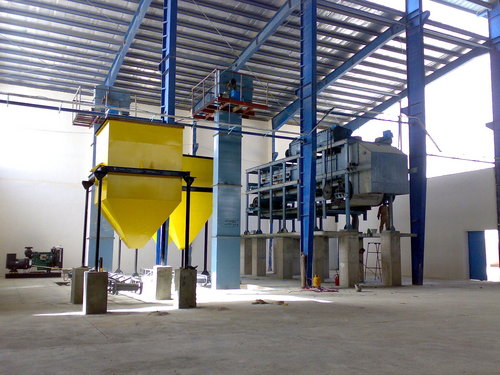 GSSP Phosphate Plant
Price And Quantity
Unit/Units

20000000.00 - 200000000.00 INR
Product Description
GSSP Plant
Our GSSP Plant (Granulated Single Super phosphate Plant) is widely used in the industry of fertilizers. This precision engineered plant can be used for complementary fertilizer, base fertilizer as well as seed fertilizer. These are basic materials to manufacture compound fertilizers. Our GSSP Plant can supply sulphur, calcium and phosphorous into the main plant. Nitrogen lose is reduced by the machine. In addition to this, our GSSP Plant can synthesize nitrogen, sulphur, calcium and silicon elements. Also, our plants are designed with accuracy by the engineers and therefore, these are appreciated by the customers for long time operation life, corrosion resistance, and minimum maintenance cost.

Main components of this plant are mentioned below:

Conveyor Belts

Rotary drum granulator

Hot Air Generator

Rotary dryer

Rotary Cooler

Vibrating Screens

Weighing machine

Packaging machine

Super Phosphate Storage Pile

Conventional Scrubbers
Products Features:
High functionality
Robust construction
Hassle-free operation
Easy to operate
Process Of Manufacturing Of Granulated Single Super Phosphate:
The deliberate amount of the cured SSP is blended appropriately with filler in a blender. The homogeneous mass is then prepared in the granulator drum.The granulator drum turns at low RPM. The material runs up with the mass of granulator for some tallness and after that begins moving back. A fine shower of water at this stage begins the procedure of granulation and as the material moves on, the granules' measure increments. This material is exchanged to the dryer drum with the assistance of a transport line. The Furnace connected to the dryer creates hot air which is made to go through this wet material. The vanishing & buildup of water gets kept on the little granules and further upgrade the granules' extent. With the hot air stream the material gets dried. The material is then gone through the cooler drum for cooling. The cooled material is exchanged to the screens to uproot the larger than usual & undersize granules from the item. The larger than usual granules subsequent to pounding & under size granule are blended with the crude food for reprocessing. The plant is outfitted to manage air contamination inside the plant and stack pipe gasses.


Contact Us
G-1-1428, RIICO Industrial Area, Phase V, Bhiwadi, Rampur Mundana, Bhiwadi, Rajasthan, 301019, India
Phone :+918037400922